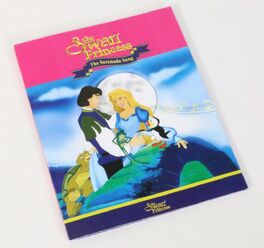 The Swan Princess: The Serenade Song is the first storybook that The Swan Princess has published in over 20 years. The Serenade Song is a story of Derek and Odette's continued trials with evil magic and their fight for love to prevail. The children's storybook was written and Illustrated by Evelyn Vicario using the original images from the 1994 animated film, The Swan Princess. Also includes images of the newly animated Princess Odette created by Malane Newman. Currently only available in hardback, 34 pages.
Ad blocker interference detected!
Wikia is a free-to-use site that makes money from advertising. We have a modified experience for viewers using ad blockers

Wikia is not accessible if you've made further modifications. Remove the custom ad blocker rule(s) and the page will load as expected.