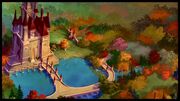 This is the place where Derek and his mother Queen Uberta are livig. It has a lake. In Winter( In the 5th movie) People joy the skating. I has a great libary. Derek often goes there. In the 1rst movie. Derek is reading to find the reason what King Wiliam have meant to say: It's not what it seems". Sometimes, Derek and Odette are going to vistit Queen Uberta, she aslo visits them. 
Ad blocker interference detected!
Wikia is a free-to-use site that makes money from advertising. We have a modified experience for viewers using ad blockers

Wikia is not accessible if you've made further modifications. Remove the custom ad blocker rule(s) and the page will load as expected.