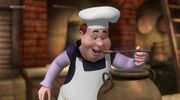 Ferdinad is the royal cook from the movies. He only appears in the 2n 3rd 4th and in the 5th movies. He seems to cook sometimes Derek's favorite food like in the 3rd movie. In the 4th movie he loves to bake cake cooking hot spoups... 
In the 5th movie he Odette and Alise (During the song We wanna hear from you) he give to Alise a taste of his soup and she put it perfect by putting pepper. 
Ad blocker interference detected!
Wikia is a free-to-use site that makes money from advertising. We have a modified experience for viewers using ad blockers

Wikia is not accessible if you've made further modifications. Remove the custom ad blocker rule(s) and the page will load as expected.