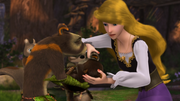 Cutter was the older brother of Jojo in the movie The Swan Princess A Royal Family Tale. He and Jojo are Flying Squirrels also known as Scullions.
In the Movie he joins with the others scullions to destroy the Swan Princess. But Soon it's reveal that was a fake Legend and Mangler, the Scullions leader gets banished. 
Ad blocker interference detected!
Wikia is a free-to-use site that makes money from advertising. We have a modified experience for viewers using ad blockers

Wikia is not accessible if you've made further modifications. Remove the custom ad blocker rule(s) and the page will load as expected.