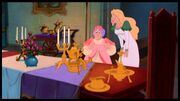 Briget' is a servant in the household of Odette and Derek.
Introduced only as "the Hag" in the first Swan Princess film, she served Rothbart for many years. When Derek invites Odette to the ball where he is to choose his bride, Rothbart becomes aware that Derek hopes to break the spell cast on Odette by declaring his everlasting love for her. However, the night of the ball takes place on a new moon - without moonlight shining on the lake where Odette is held captive, she cannot return to human form. To destroy Odette, Rothbart enchants the Hag to take on Odette's image (fulfilling the role of "Odile" from the original Swan Lake ballet) so that Derek declares his love to the wrong woman, whose true form is exposed shortly after Derek's declaration.
The Hag survives and is allowed to become a servant of Odette's household. She appears to be very friendly and kind towards Odette.
Ad blocker interference detected!
Wikia is a free-to-use site that makes money from advertising. We have a modified experience for viewers using ad blockers

Wikia is not accessible if you've made further modifications. Remove the custom ad blocker rule(s) and the page will load as expected.